Gareth Thornley Photography
More Info
----------------
Custom Search
My Favourite Photograph
Over the years I have been insired by many photographers, not least by Gordon Stainforth with his winter mountain ridges in "Eyes to the Hills" and none more so than Ansel Adams with his stark, austere industrial landscapes. Locally David Herrod's moody images of the Lakes are wonderful too.
With so many beautiful images of the world it is too difficult to choose. But from my own images I would probably choose this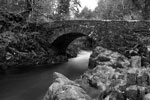 click on the image to enlarge
This shot was taken at Dusk with a 16 second exposure and fill flash to pick out the grain of the granite, it is not often that I go out with a view to taking black and white images, but on this occasion I was pleased with the result.